EXPOSTION / EXHIBITION - INTENTION(S) 1 (FEV. 2012)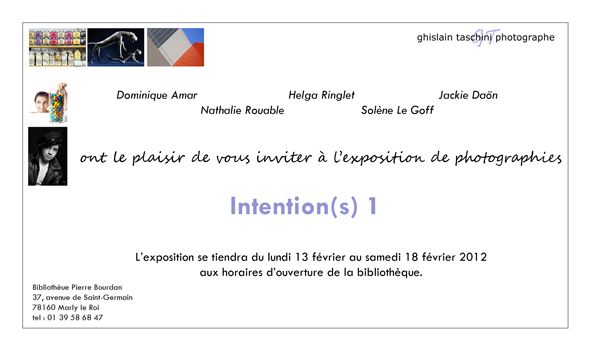 Au cours des quatre derniers mois, les stagiaires de la formation Intention & Composition ont choisi, réfléchi, imaginé, construit, réalisé, refait, corrigé, finalisé .... et finalement encadré leur série photographique.

Ces travaux personnels, divers et cohérents à la fois, sont réunis dans le cadre de l'exposition Intention(s) 1 et nous avons le plaisir de vous convier à son vernissage le jeudi 16 février.

13 au 18 février 2012 - Bibliothèque Pierre Bourdan - 37, avenue de Saint-Germain - 78160 Marly-le-Roi - Tel : 01 39 58 58 47

EXPOSTION / EXHIBITION - "EXPRESSIONS" (SEPT. 2011)
Expressions regroupe des portraits - en solitaire ou a à plusieurs, en noir et blanc ou en couleur - qui sont autant de témoignages d'attitudes, de regards et de moments partagés. Tout ce qui fait le charme et le plaisir de la rencontre.

__________________________
Expressions is a collection of portraits - alone or together, in black and white or color - which are souvenirs of attitudes, looks and, most importantly, of moments shared. All the pleasure of the encounter is there.
BONNES VACANCES !
En vous souhaitant un excellent été photographique !
__________________________
Wishing you a great photographic summer !

Kalø Vig, Danemark - Juillet 2011
BIENNALE ART CONTEMPORAIN 2 - LE PECQ (JAN.-FEV 2011)
Dans vos rêves retrouve les cimaises à la 2ème biennale d'art contemporain de la ville du Pecq :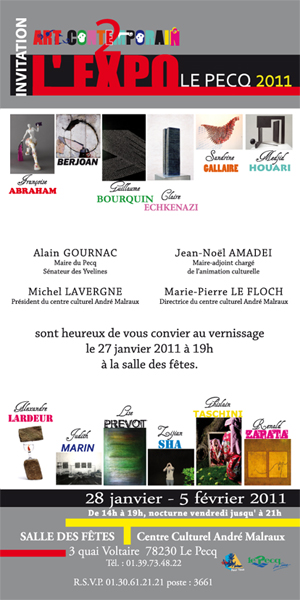 28 janvier au 05 février 2011 - Expo biennale Art Contemporain - Salle des Fêtes et Centre Culturel André Malraux - 78 Le Pecq
TEMOIGNAGE - SHOOT DE BENJAMIN KANAREK POUR HARPER'S BAZAAR CHINA (DEC. 2010)
Benoît Tremblay - ancien stagiaire du Cours de Photographie Numérique et de nombreux ateliers de perfectionnement dont Lumière & Portrait, Promenade Marlychoise, Nuit Magique... - a eu la possibilité d'assister le photographe de mode Benjamin Kanarek.
Retour sur cette expérience exceptionnelle à l'occasion d'un shoot pour le magazine Harper's Bazaar China.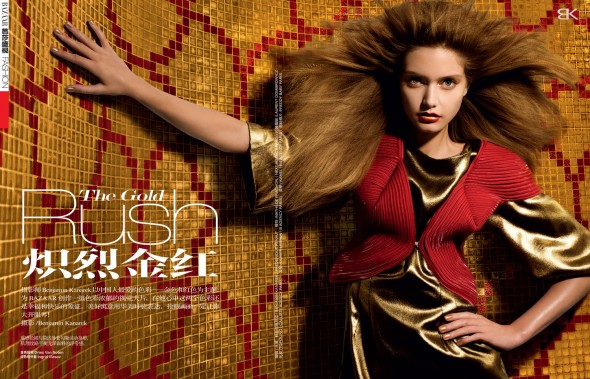 The Gold Rush - Harper's Bazaar China - Janvier 2011 - © Benjamin Kanarek
"Jeudi 14 Octobre 2010 - 11 heures
Rendez-vous au show room de Bisazza, magasin de carrelage et mosaïque haut de gamme, où l'on se trouve plongé au cœur de l'Italie. L'équipe fait connaissance, chacun se présente et on n'attend plus que le mannequin vedette Mathilde Frachon.
Benjamin fait le tour du show room pour trouver l'endroit de sa 1ère prise de vue : la salle de bain sera parfaite pour la première photo et nous commençons à déballer le matériel, les boîtes à lumière, les lampes flash mais par malheur un des tubes néon est cassé et il va falloir le remplacer d'urgence. Ce matériel est indispensable pour réaliser les photos car avec les boîtes à lumière on peut être au plus près du modèle et façonner précisément le rendu de la lumière et de l'éclairage.
Je pars donc chercher ce néon dans une boutique à Paris : 1h30 plus tard, je suis de retour avec le précieux butin et Benjamin est content de me voir revenir. Il me demande ce qu'a dit le vendeur et lui répond... que c'est très fragile. Benjamin rigole, le courant passe entre nous.
Nous préparons la scène pour la 2éme photo, on place les éclairages, le mannequin a changé de tenue, on modifie un peu sa coiffure, le maquilleur remet un peu de rouge à lèvres et repoudre le visage de Mathilde Frachon.

Mathilde se positionne et Benjamin contrôle ses éclairages et me demande d'actionner le flash pour qu'il puisse mesurer avec le posemètre la lumière sur le visage du mannequin, puis sur le fond et sur les habits. Il règle 'ouverture et le temps de pose de son appareil et commence à photographier. Il s'arrête subitement car un détail le gêne, me tend son appareil, repositionne Mathilde. Le coiffeur en profite pour ajuster les cheveux tandis que le make-up artist lui repoudre les bras afin que la lumière « accroche ». Benjamin reprend son appareil et refait une série de photos.
Entre chaque prise de vue Benjamin et Frédérique, co-directrice du shoot, archivent les photos de la prise de vue, vident les cartes mémoires avant de passer à la prise de vue suivante et de changer d'endroit.

Les changements de tenue rythment les différentes scènes et prises de vue. Les décors changent et la coiffure évolue aussi en fonction du stylisme recherché pour la photo. La tenue et le maquillage changent également tout au long des différentes prises de vues.

21 heures
Le matériel est rangé avec précaution et nous remercions la gérante du showroom Bisazza pour son accueil. Maintenant il va falloir effectuer l'editing des images, sélectionner les huit meilleures. Frédérique se prépare à des heures de travail sur Photoshop afin d'obtenir un rendu final irréprochable et répondre parfaitement à la commande du magazine.

J'ai découvert le monde de la mode, qui m'était jusqu'alors inconnu : j'ai assisté à une séance dirigée par un grand photographe et cotoyé une mannequin de renommée mondiale et un excellent make-up artist. Le résultat final de cette journée de prise de vue - et l'aboutissement de cette série de photos - sera la parution dans l'édition chinoise du magazine Harper's Bazaar de janvier 2011.

Cette journée inoubliable restera gravée dans ma mémoire. "

Benoît T. - assistant d'un jour…
Pour consulter le travail de Benjamin Kanarek : www.benjaminkanarek.com
EXPOSITION "soliTaire" / "soliTaire" EXHIBITION (SEPT. & OCT. 2010)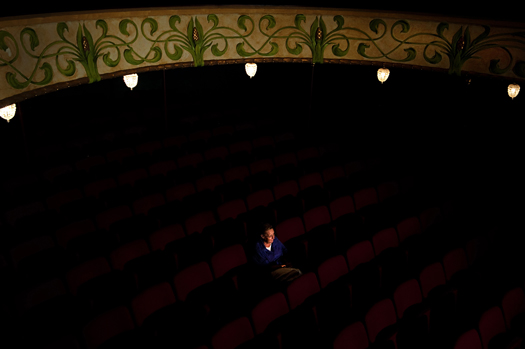 soliTaire vous invite à confronter la solitude réelle et imaginaire provoquée parfois par la vie : dans ce périple de la lumière vers l'obscurité, le souvenir saura laisser place à l'espérance.

__________________________
soliTaire is a journey towards true or imaginary solitude : from darkness to light, souvenir will eventually give way top hope.
UNE NUIT VRAIMENT MAGIQUE - TRULY A MAGICAL NIGHT (JUIN-JUILLET / JUNE-JULY 2010)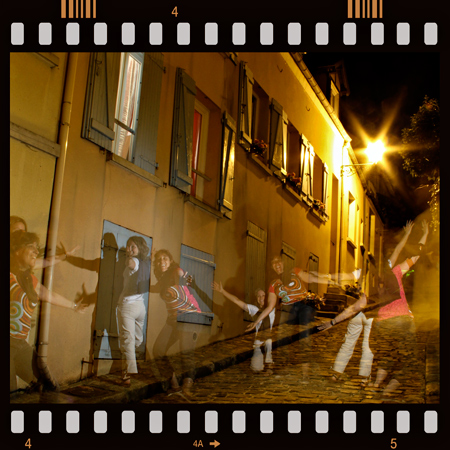 © Véronique Ferry & Solène Le Goff - Ghislain T.

Autre ambiance, autre lieu. Un agréable vendredi soir, Helga, Solène, Sylvie et Véronique ont assisté à d'étranges phénomènes.
Avec la tombée de la nuit, les murs et les vieux pavés se sont parés de leur plus belles couleurs. Les esprits joyeux, qui n'attendaient que cela, firent subitement leur apparition et nous accompagnèrent jusqu'à la fin du périple...

... que vos nuits d'été soient toutes aussi magiques ! A bientôt !
__________________________
Another place, another moment. Helga, Solène, Sylvie et Véronique came to witness strange phenomenons in the heart of a beautiful friday night.

With the nightfall, walls and old cobbled stones were wrapped in a warm color and glow. The merry spirits, who were dying for that moment, suddenly appeared and stayed with us until the end of our journey...
... may all your summer nights be as magical ! See you soon !

PROMENADE PHOTO LA DEFENSE - LA DEFENSE PHOTO OUTING (MAI/MAY 2010)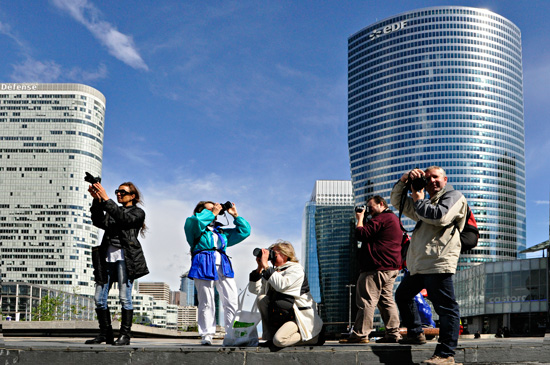 Benoît, Csaba, Elisabeth, Françoise et Sylvie ont affronté la météo changeante le Dimanche 02 Mai pour arpenter dans la bonne humeur le quartier de La Défense.

Verticales vertigineuses, sculptures, perspectives, reflets et figures fugitives se sont offerts à eux au cours de cette promenade photographique de 3 heures.
Merci à eux et à bientôt pour la prochaine excursion sur le Parvis !

__________________________
Benoît, Csaba, Elisabeth, Françoise et Sylvie faced changing weather conditions on Sunday May 02nd to joyfully walk around the La Défense district.

Staggering vertical lines, sculptures, perspectives, reflections and hurried pedestrians were theirs to photograph during this 3 hours promenade.
Thank you and see you all soon for our next outing on le Parvis !
GIBOULEES DE LA CREATION (MARS & AVRIL 2010 )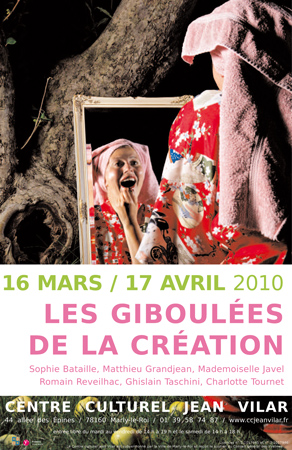 Dans vos rêves est à nouveau aux cimaises dans le cadre d'une exposition pluri-artistique au Centre Culturel Jean Vilar.

__________________________
In your dreams is visible again in a pluri-artistic exhibition at the Centre Culturel Jean Vilar.

ATELIER PHOTOGRAPHIQUE JEUNESSE ET EXPOSITION "AUTOMNE" / YOUTH PHOTOGRAPHY WORKSHOP AND EXHIBITION "AUTUMN" (DEC. 2009 - FEV. 2010 )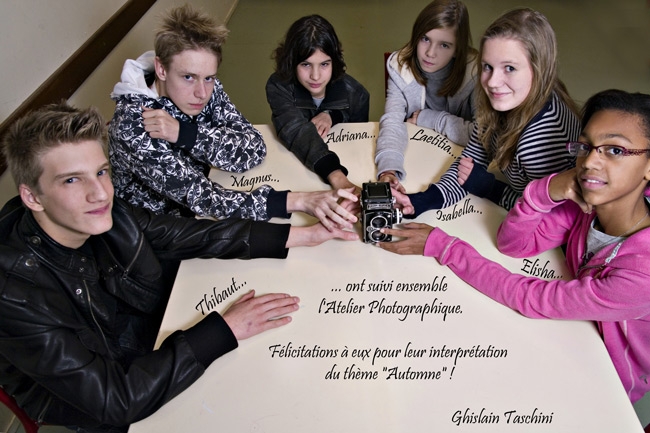 Adriana, Elisha, Magnus, Isabella, Laetitia, Thibaut ont participé à l'Atelier Photographique Jeunesse. Ils ont immédiatement mis en application leur savoir et savoir-faire et le résultat est un splendide exposition collective.
__________________________
Adriana, Elisha, Magnus, Isabella, Laetitia, Thibaut all participated to the Photographic Youth Workshop. Soon after they decided to apply their newly acquired knowledge and created a splendid collective exhibition.

EXPOSITION "DANS VOS REVES" / "IN YOUR DREAMS" EXHIBITION (SEPT. & OCT. 2009)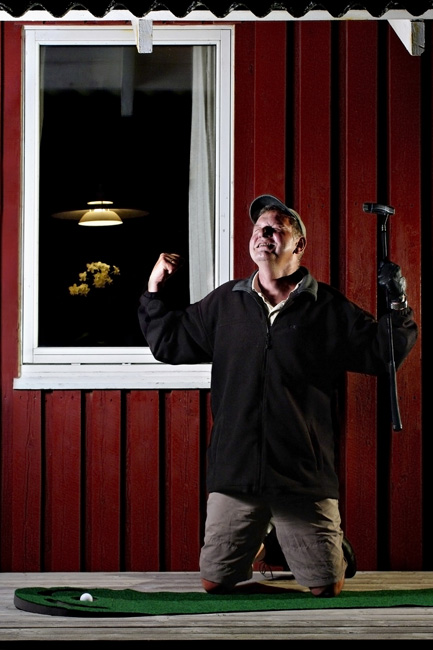 Le songe et la nuit ont le pouvoir de transfigurer nos activités ordinaires et petits plaisirs du quotidien.... mais avons nous vraiment rêvé ?

__________________________
Night and dreams have the power to transform our daily activities and simple pleasures .... but is it really a dream ?
LAUREAT DU CONCOURS "LAVIE EST BELLE" / PRIZE WINNER IN "LA VIE EST BELLE" COMPETITION (COMPETENCE PHOTO MAGAZINE - Eté / Summer 2009)

Le magazine Compétence Photo a révélé dans sa dernière édition les 101 lauréats du concours national "La Vie est Belle" : près de 3000 passionnés ont participé et nous avons le plaisir de voir "En regardant le vent" parmi les photos retenues et primées.
Voilà une agréable manière de vous souhaiter un excellent été !
__________________________
Compétence Photo magazine revealed the 101 winners of their national competition "La Vie est Belle" : almost 3000 pictures were sent and we are delighted to see "Following the wind" amongst the selected and prize winning images.
There could not be a better way to wish you an excellent summer !
EXPOSITION / EXHIBITION "SONGE D'UNE JOURNEE DU THE"
(16 au 30 JUIN / JUNE 16th to 30th 2009)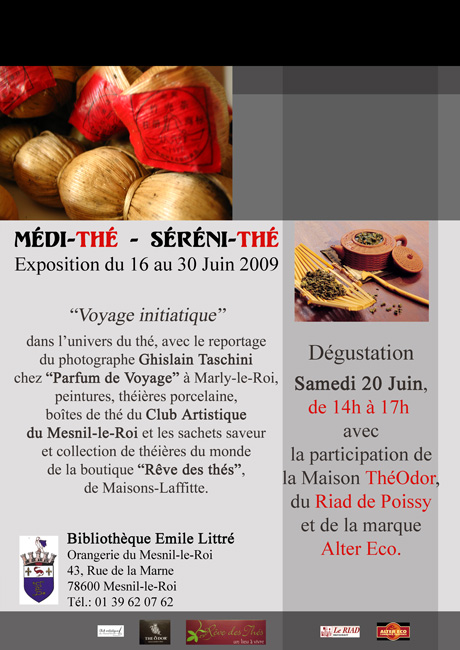 Exposition d'une série de photographies sur le thème du thé en partenariat avec Parfums de Voyage : dans le Songe d'une journée du thé nous accompagnons Cyril, de l'aube au crépuscule, dans ses activités de préparation, dégustation et vente de thé.
16 au 30 juin 2009 - Bibliothèque Emile Littré - Orangerie - 43, rue de la Marne - 78600 Mesnil-le-Roi - Tel : 01 39 62 07 62

__________________________
Exhibition of reportage work on the theme of tea in partnership with Parfums de Voyage : in the Songe d'une journée du thé we follow Cyril, from dawn until dusk, in his activities of tea preparation, tasting and selling.
June 16th to 30th 2009 - Bibliothèque Emile Littré - Orangerie - 43, rue de la Marne - 78600 Mesnil-le-Roi - Tel : 01 39 62 07 62
VAHINA GIOCANTE - HOTEL MEURICE - PARIS - (MAI / MAY 2009)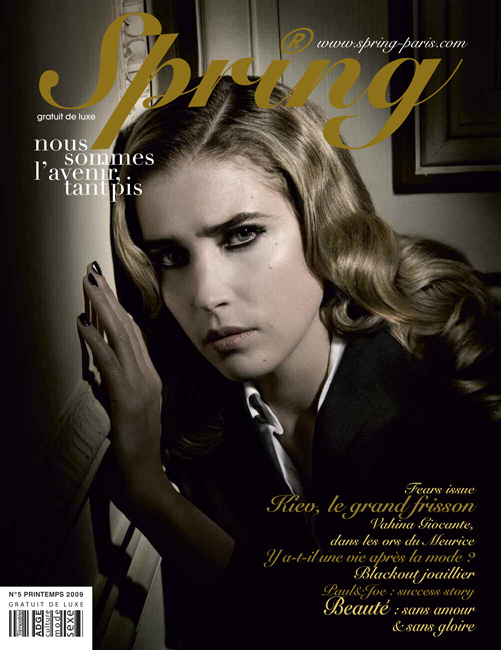 Le magazine Spring présente sur son site web la vidéo du making of du shooting de Benjamin Kanarek avec l'actrice Vahina Giocante à l'Hotel Meurice.
Cliquez ci-dessous, montez le son, regardez attentivement et profitez !
__________________________
Spring Magazine present on their web site the "making of" of Benjamin's Kanarek latest fashion shoot with Vahina Giocante at Hotel Meurice.
Click here under, turn on the sound, pay good attention and enjoy !
CONFERENCE "PHOTOGRAPHIEZ AUTREMENT" (25 AVRIL 2009)
Conférence sur la composition dans la photographie pour l'association A.MAR.R.E.S pour le partage et l'échange de savoir.
La deuxième partie de la conférence sera consacrée à la critique constructive d'images : si vous participez à la conférence et souhaitez soumettre vos photographies, merci de les envoyer en format jpeg à gtaschini@gmail.com pour le 22 Avril 2009.
Photographiez Autrement ! Regard et Composition - Samedi 25 avril 2009 à 16h - Salle Claude Luter - Espace André Malraux, Marly-le-Roi.

__________________________
Conference on composition in photography for association A.MAR.R.E.S which promotes knowledge sharing and exchange.
In the second part of the conference, there will be a constructive review of pictures : if you participate to the conference and wish to submit your pictures, please send them in jpeg format to gtaschini@gmail.com before April 22nd 2009.
Photographiez Autrement ! Regard et Composition - Saturday April 25th 2009 at 16h - Salle Claude Luter - Espace André Malraux, Marly-le-Roi.
GENERATIONS FUTURES / FUTURE GENERATIONS (DEC 08-FEV 09)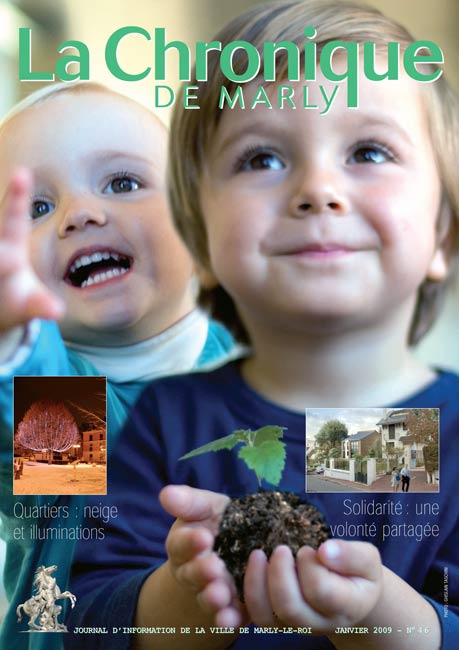 Marly-le-Roi s'est paré de nos images dans le cadre d'une campagne d'affichage et de communication destinée aux habitants afin de leur souhaiter une bonne et heureuse année 2009 !
Une de ces images fait actuellement la couverture du numéro de Janvier-Février 2009 de la Chronique de Marly.
Bonne année à tous !
__________________________
Our pictures have been seen by all people living in or visting Marly-le-Roi as part of the "Best wishes for 2009" communication campaign organized by the city.
One of these pictures is currently making the cover of the January-February edition of the town magazine.
Happy new year !
EXPOSITION "URBANITES" / "URBANITIES" EXHIBITION IN MARLY-LE-ROI (08 - 13.12.08)
Troisième et dernière étape 2008 pour Urbanités qui sera présentée la 2ème semaine de Décembre à la Bibliothèque Municipale de Marly-le-Roi.
Ce sera une nouvelle occasion de partager avec vous ce voyage international et graphique à travers la Cité et les émotions ou inspirations qu'elle suscite.
A bientôt,
Ghislain
__________________________
Third and last 2008 stop for Urbanities which will be presented the 2nd week in December at the Bibliothèque Municipale of Marly-le-Roi.
This will be another opportunity to share with you this international and graphical journey in the City and the emotions or inspirations that it generates.
See you soon,
Ghislain
EXPOSITION "URBANITES" / "URBANITIES" EXHIBITION IN MESNIL-LE-ROI (04.10.08)
Urbanités poursuit sa vie dans le cadre du Festival International du Film Court du Mesnil le Roi : Mesnil Ciné
L'exposition photo sera visible à partir de 14h30 et en soirée - vers 20h45 - les films primés recevront leurs récompenses et seront projetés.
J'espère avoir le plaisir de vous y retrouver !
__________________________
Life goes on for Urbanities which will be displayed during the Short Movie International Festival of Mesnil le Roi : Mesnil Ciné
The pictures exhibition will open at 14h30 and in the evening - at 20h45 - the winning movies will receive their rewards and will be shown.
Looking forward to meeting you there !
PHOTOKINA 2008 (23-28.09.08)
Le salon professionel de la Photokina est le plus grand rassemblement mondial des professionnels de l'image. Cette gigantesque biennale se tient à Cologne et j'aurais le plaisir d'y présenter - en partenariat avec Orange / Pikeo - une série d'image intitulée Urbanités.
Au plaisir de vous voir dans le hall 10.2 sur le stand C.051 si vous visitez le salon !
__________________________
The Photokina exhibition is the world's largest convention for imaging and picture professionals. I will have the pleasure of being in Cologne to present a set of pictures called Urbanities in partnership with Orange / Pikeo.
I hope we can meet in hall 10.2 on the C.051 stand if you are visiting the Photokina !
LA VILLE EST UNE JUNGLE - JUNGLE IN THE CITY (10.08.08)
L'été 2007 fut l'occasion d'une rencontre hors norme avec Jasmine l'américaine, Diana l'allemande et Karoline la danoise : leur performance visuelle au coeur du Diamant Noir à Copenhague fut une parfaite illustration de la vitalité et de l'innovation de la biennale artistique "Metropolis".

Karoline H. Larsen a installé cette année une parcelle de jungle au coeur du quartier populaire de Norrebro toujours à Copenhague. Les cordes multicolores sont là pour l'escalade et le jeu et leur disposition est en perpétuelle évolution au gré des découpages et des recompositions.
Karoline installera en Septembre prochain ce territoire entre ciel et terre dans une vraie jungle urbaine... celle de New York.
Ne râtez pas le Conflux Festival si vous y êtes à la rentrée !
__________________________
Summer 2007 was the opportunity for a memorable encounter with Jasmine from the USA, Diana from Germany and Karoline from Denmark : their visual performance in the heart of the Black Diamond in Copenhagen was the illustration of the vitality and innovation of the artistic biennale "Metropolis".
This year Karoline H. Larsen has installed a piece of jungle in the heart of Copenhagen, in the popular district of Norrebro. Anyone can climb and play on the multicolored ropes which are constantly recomposed as people cut and tie them again.
In Septembre Karoline will bring this territory created between earth and sky to a true urban jungle ... New York City.
Don't miss the Conflux Festival it if you happen to be in the Big Apple at that time !
CHAPEAU A LA UNE - FROM HAT TO COVER (10.07.08)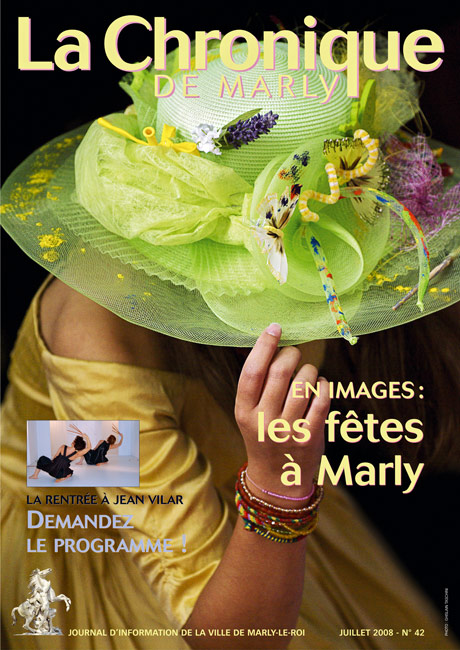 Bravo notamment à Ariane, Brigitte, Mylène pour le magnifique spectacle offert au Concours de Chapeaux de Marly-le-Roi !
Les photos ont eu un grand succès auprès des participantes et j'ai également eu le plaisir de voir certains clichés publiés et faire la une en pleine page du magazine de la ville (9500 ex).
Je vous souhaite un excellent été et vous donne rendez-vous pour une arrière-saison remplie de bonnes surprises...
__________________________
Congratulations to Ariane, Brigitte, Mylène for their briliant performance at the Fine Hat Competition in Marly-le-Roi !
The pictures have been a great success with the contenders and I also had the pleasure of having some images published and one make the full cover of the town magazine (9500 prints).
I wish you an excellent summer and will come back with plenty of good news for autumn...
LE JOUR J - D-DAY (06.06.08)

Grâce à la magie d'internet, j'ai la joie de vous accueillir pour le « vernissage » de ce tout nouveau tout beau book photo électronique !

Les catégories Portraits et Sessions-Reportages sont au centre de ce portfolio.

Faites-moi part de vos réactions en signant le Livre d'or et revenez souvent car ce site évoluera au fur et a mesure de mes travaux et projets.



Photographiquement vôtre,



Ghislain
__________________________
Thanks to the power of internet, I am delighted to welcome you for the "varnishing" of my brand new digital photobook !
The Portraits and Sessions-Reportages categories are the heart of this portfolio.


Please post your comments in the Guestbook and do come back often as the site will evolve with future sessions and projects.

Photographically yours,

Ghislain